---
Online trading is fast becoming one of the largest and most liquid financial markets in the world. It may be the largest financial market in the world by total volume. However, this growth has also created some unique trading situations that are currently proving to be more challenging for traders to master. Every investor should make it a goal to understand what he's getting into before starting anything.
The convenience and accessibility of online trading platforms are just some of the reasons for increased investors' growth. However, the lack of laws governing various online trading entities' rights and responsibilities has led to the emergence of several fraudulent strategies, many of which have not been remotely criminally punishable even though lacking in monetary consequences. If you're trading stocks, forex, or cryptocurrencies, you should also learn about trading scams and how to avoid them.
If you have heard about Internet trading, then you have probably wondered how you can avoid getting scammed out of your hard-earned cash. These scams can be very devious and are often designed to get your money quickly and with little effort. They are designed to take advantage of novice and inexperienced traders. Fraudulent trading activities are becoming increasingly common online and offline. People should be aware of these scams to avoid further entanglements with them. The following tips will help you identify and stay away from online trading scams:
No one wants to be a victim of a trading scam. Therefore, it's crucial to choose a broker who is reliable and trustworthy. One way to avoid a rogue broker is by checking out the fraudulent companies listed on the U.S Securities and Exchange Commission website. If you know someone who experienced getting scammed, report it immediately to the appropriate authorities. There are also reliable sources on legitimate brokers online – click if you're interested to learn more.
Always keep your personal and banking information secure when trading online. Please verify that you're dealing with licensed brokers and that their website uses the latest security technology to protect against attackers. Scammers will do anything to trick you out of your money. Therefore, it's up to you to safeguard your data all the time.
Another way to avoid investment scams is to take your time and research on the company before making any decisions. If you're a beginner in the forex or stock market, you need to invest in your education. By paying for a solid trading course, you can drastically reduce your learning curve quickly and start earning money sooner. These lessons also give you information to avoid common pitfalls like emotional trading, day trading, and trading scams. Don't take these risks; use education and a solid trading strategy to protect your capital.
When you choose an education, you have to put in hard work. It means you must put in the time to apply what you're learning. When you possess the right knowledge, you can avoid falling victim to bad advice, hard selling, pump and dump scams, and other bad trading tactics.
Trading scams occur when someone offers a service (usually a product) for a price lower than the original and doesn't deliver on it for a reasonable length of time. A scammer usually pretends to have an excellent relationship with an individual or company to extract money from the victim. He often offers advice on trading and tells the victim that large profit can be made in a short amount of time. In reality, you'd end up losing more than what you received.
Everyone makes mistakes, but that doesn't mean you should stop trying to learn and grow as a trader. The more you invest in your trading education, the more prepared you'll be to deal with whatever comes your way on the trading market. Educate yourself on the best ways to take advantage of current and emerging trends. It will teach you how to reduce your trading risks and will keep you from falling victim to all of the many scams out there in the market today.
Expecting to make more than you're supposed to should be avoided as it will make you more vulnerable to investment scammers' tactics. People indulge in trading activities to make a profit, but it's best to set reasonable goals. Focus on building your wealth slowly, but safely.
Takeaway
In conclusion, learning how to avoid getting scammed is quite simple. First, be careful when choosing a trading company. Second, never give all your information out over the phone or Internet. Last, if you have any doubts, trust your instincts. Do some research before putting any money in the hands of forex traders. If you stay vigilant, you can spot many scams which result in a loss of funds rather than gain.
---
---
Looking for the Best Forex Broker? We trade at RoboForex. You can receive a rebates from each trade when registering using our partner link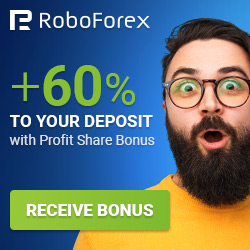 ---