---
In every circle, there's always that one friend or person who you find so hard to shop for. It could be a family member, a close friend, or a colleague who's just not into the usual things because they seem to have different perspectives in life. Sometimes, it can also be because of the nature of their work. Certain professionals can be pretty tricky to find a gift for, such as financial traders.
Do you have a trader friend or family member? What did you give them on their last birthday or other special occasions? If you're struggling with finding the right gift for them, maybe it's time you consider giving them a financial wall art piece that truly represents their passion and nature of work.
Why Financial Wall Art? 
Wall art, in general, has always been one of the nicest gift ideas. Whether it's for a fashionista friend, an interior designer family member, or your family's doctor, everybody loves a home accent they can put up on the wall and display in their living rooms. So, for that trader in your life, why not consider financial wall art as a present?
There are several finance wall art ideas that you can choose from. Any investment professional would surely appreciate a well-curated wall art that reflects their personality, profession, and style. It works as a lovely present even for people who aren't into the trade but profess a keen interest in anything finance.
Furthermore, here are some reasons why financial wall art would be the perfect gift for traders and other finance professionals in your life:
You surely want to give a present someone can use or appreciate for a long time. With wall art, you can expect the piece to last long, especially if you're able to choose something of high quality and craftsmanship.
Wall art is like wine that goes well with time, especially when it's of excellent quality and when taken care of properly. No matter how many years may pass, it'll look even better than ever.
The vintage look would also add more character to the art piece, and people who see it would definitely admire its uniqueness and elegance.
A Perfect Gift For Someone Who Already Has Everything 
Most finance professionals are doing good on their own that they can afford to buy everything they want and need. As such, it's quite challenging to find a gift for them when you know they can easily purchase anything anytime they want.
Fortunately, wall art is something that can be given to any person regardless of financial status and lifestyle. They'd most likely love it, especially since they know you've spent a lot of thought and effort to come up with a unique present.
One struggle about gift-giving is that you also need to consider the type of occasion or event before you go ahead and pick something for someone. Some things are meant for certain types of celebrations, such as gift baskets that are usually given during Christmas and other similar holidays.
With wall art, though, you don't have to worry about the reason for the gathering since it'll suit birthdays, wedding anniversaries, Christmas, and career milestones. You can even have the piece custom-made or designed for your special someone.
Different Wall Art Ideas To Consider 
Suppose you're already sold on buying financial wall art for someone in your life. If so, what design, color, medium, or orientation should you go for? If you have no clue yet, you can try searching online for some inspiration and ideas. You can also use those ideas if you want to get something custom-made.
Since you're giving the gift to someone into trading, you could look into framed trading quotes. Look into the person's style, character, and other interests to determine what wall art could capture their heart. Does the person admire Warren Buffet? If so, you can give them an abstract stock chart that highlights a quote from the famous and successful investor. They'd be more inspired to work and make money Forex trading each time they remember the quote from someone they look up to.
For the outgoing and life-of-the-party trader friend of yours, you can choose a wall art piece that boasts bold and bright colors. It could be metal wall art or sepia-toned wall art, which are both eye-catching and will surely liven up any space.
Other financial wall art ideas you can consider are:
Financial tapestries
A painting or drawing of the Wall Street sign
A VIP Investor/Trader Acrylic Plaque
Antique metal sign art
A metal wall art that features the periodic table
Eclectic metal wall art
There are more than enough wall art designs and ideas you can choose from if you know where to look. The key is to find a wall art maker that produces high-quality art pieces to be sure of the level of artistry you'll be giving.
Takeaway: For That Special Trader In Your Life 
If someone is special or valuable to you, you'll always find ways to make them happy and let them know that you support what they do. That being said, finding the best gift for them is a big deal. It doesn't matter if your present is expensive or not because they'll surely appreciate the effort more than its price tag.
So, the next time you're out and about shopping for gifts for the people in your life, don't forget to think of that trader or investor who's also secretly looking forward to what you'll be giving them. Especially now that the holiday season is fast approaching, it's time to get your gift-giving plans going. Start listing down everyone you need to include and what type of gift would be perfect for them.
For that special trader in your life, you may start looking at the different financial wall art pieces as a way of showing them just how much you appreciate having them in your life and career. They'll definitely be excited and overwhelmed to find out how thoughtful you've been to come up with such as unique yet very fitting present for them.
---
---
Looking for the Best Forex Broker? We trade at RoboForex. You can receive a rebates from each trade when registering using our partner link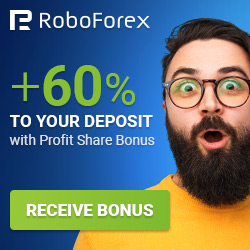 ---