---
The retail forex market has become so competitive that only thinking about sifting through all the brokers available can give anyone a major headache. It can be an overwhelming task to choose a forex broker to trade with, especially if you're new to forex trading and still don't have an idea what you should exactly be looking for.
In this post, you'll discover the important things to consider when choosing a forex broker. Read on below to learn more.
Services Offered
Not all forex brokers provide their clients with the same services and information. You need to look at each of their portfolios in order to determine which one provides the most valuable information. Some brokers specialize in specific currencies, like Euro and Dollars, while others only work with a few currencies.
You may be interested in a broker that has a full-service portfolio of currencies and a number of different strategies for trading. Meanwhile, a broker who works strictly with one particular currency may only be able to offer you advice on how to select and manage your portfolio.
Security And Regulation
A high level of security is the most important characteristic every good forex broker should have. The last thing you'd want is to hand thousands of dollars over to a person just because they claim they're legit.
You should make sure that the forex broker that you choose is a member of a foreign exchange regulation agency from anywhere in the world. Yes, there are voluntary organizations that regulate the trading industry. This means that the forex broker is held responsible for meeting strict rules and guidelines set forth by their agency. These rules are in place to protect the forex market and its participants. They include rules on margin requirements, the size of investment funds that should be held in order to provide liquidity, and other rules designed to ensure that the forex market is well-regulated.
These foreign exchange regulatory agencies are an excellent source of information for any investor considering the use of forex brokers. They include the following:
Commodity Futures Trading Commission or CFTC, and National Futures Association or NFA in the United States
Prudential Regulation Authority or PRA, and Financial Conduct Authority or FCA in the United Kingdom
Australian Securities And Investment Commission or ASIC in Australia
Swiss Federal Banking Commission or SFBC in Switzerland
Canada's Investment Information Regulatory Organization
The foreign exchange regulatory agencies mentioned above are only some of the many agencies that regulate the foreign exchange market around the world. Note that checking online brokerage review sites, like ForexToStocks, can also be of great help in knowing the reliability of forex brokers you may come across with.
Demo Account
If you're working with a forex broker, you'll be able to use their trading platform using a demo account. There are some brokerages, however, that won't allow you to do this, so this may be a requirement for you. As a rule of thumb, you should not have to spend hours of your time learning new strategies in order to trade successfully with a forex broker when you're already paying for their services. That's where a demo account becomes of great help.
Forex Account Types Available
The size of the investment that you plan to make is an important factor. The size of the account that you use will determine how much money you're able to access to make trades in the foreign exchange market. Make sure that you know how much you're able to invest and that you understand the difference between small accounts and medium accounts.
Margin Requirements
Forex brokers aren't required to take a percentage of your capital in the form of commissions. Some brokers will require a percentage of the total amount of your investment in order to provide trading signals. These are called margin requirements. You should look for a broker that allows you to decide exactly how much capital you want to invest.
Brokerage Fees
The commission that you'll be paying to foreign exchange brokers will affect the amount of money that you'll be able to invest in the forex market. The broker will take their cut from the profit that you make, as opposed to taking a percentage of the total money that you invest. You should make sure that you're aware of the brokerage fees that you'll be paying, and that the commission that you'll be paying won't cause you to lose more than what you're bringing in.
Final Thoughts
As there are hundreds or even thousands of forex brokers out there, choosing a reliable broker is important. Look for one that has all the features you're looking for. Again, the key to having successful trading experiences is a good broker. What you've learned from this article should help you move a step closer to a good trading experience.
---
---
Looking for the Best Forex Broker? We trade at RoboForex. You can receive a rebates from each trade when registering using our partner link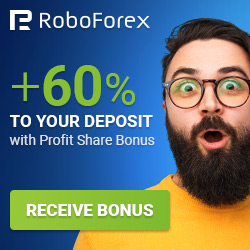 ---