---
Currency pair EUR USD continues to move through our euro forecast of the dollar tomorrow. At the moment, the pair quotes struck neckline reversal forex head and shoulders pattern on the decision of the Federal Reserve to increase interest rates and expectations of higher interest rates three times in 2017.
EUR USD Euro Dollar Forecast on December 16, 2016
Quotes euro dollar tight test support area below the level of 1.05, we should not exclude the option retest the neckline is broken and only after that to continue falling within the mining model. The purpose of the fall is the area on the level below 1.0220. Cancellation option will be the decline of the euro dollar is strong growth and the breakdown of the field of formation of legal shoulder model with closing quotation EUR USD above 1.07 levels, which will point to the abolition of the model and attempt the development of an upward trend. We continue to hold to sell the pair and try new deal in favor of the reduction. Among the important news that could affect the course of the euro tomorrow, December 16, 2016, stands out, the publication of data in the EU, the Consumer Price Index, Core CPI is expected that rates will remain unchanged, and held meeting of the European Council and the statement ECB President Mario Draghi.
EUR USD Euro Dollar Forecast on December 16, 2016 suggests an attempt to continue falling in the framework of the descending pattern head and shoulders with a potential target drop in prices at the level of 1.0220.
---
---
Looking for the Best Forex Broker? We trade at RoboForex. You can receive a rebates from each trade when registering using our partner link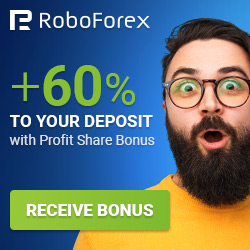 ---