---
Currency pair pound dollar GBP USD showed a fall in the area and tested 1.26. At the moment, there is potential for a rebound of quotations pound to dollar at 1.2680, from where we can expect continuation of falling of an attempt to start mining within the forex reversal patterns of Head and Shoulders.
Analytics and GBP USD forex forecast on December 8, 2016
Cancellation option will be a strong growth area and the breakdown of the local maximum. In favor of a continuation of falling of quotations GBP / USD stands Returns relative strength indicator values to a broken trend line. We are aggressively increasing our sales volume and are willing to try new positions on the pair as the reduction of working out daily within the descending pattern from a survey forecast GBP/USD for the week 05.12.2016- 09.12.2016.Important events that may affect the rate of the British Pound tomorrow, December 8, 2016 is to provide a balance of RICS house price index is expected to rise from the level of 23% to 26%.
Analytics and GBP USD forex forecast on December 8, 2016 suggests an attempt to test the area of 1.2680, which is expected to complete the formation of topping models forex head and shoulders with a view to fall below the level of 1.24. If you are upgrading a local maximum region is expected to continue growing.
---
---
Looking for the Best Forex Broker? We trade at RoboForex. You can receive a rebates from each trade when registering using our partner link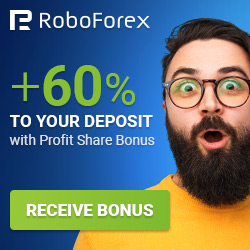 ---