---
Currency pair Australian dollar against the US dollar USD AUD continues moving inside the descending channel, and at the moment there is a potential for falling Australian dollar quotations within the mining model Double Top. An additional signal in favor of the fall is the rebound relative strength indicator values from the trend line. We try to keep selling the pair and open new business in the sale of AUD USD with a close stop.
AUD USD Forecast Australian Dollar on December 1, 2016
Cancellation option will be a strong growth of quotations of the pair above the level of 0.75, which indicates the continuation of upward correction. The purpose of the fall is the area of the pair quotes at 0.7250 below. Among the important news that could affect the Australian dollar tomorrow, December 1, 2016 stands out, change in the volume of capital expenditure in the private sector for the third quarter of this year, it is expected a significant change in the index at the level of -5.4% to -2.8%, which may to support the Australian dollar, but in the case of a negative decline is expected to continue the descending forex model 5-0.
AUD USD Forecast Australian Dollar on December 1, 2016 suggests an attempt to fall in the rebound from the resistance area, test the upper boundary of the channel will complete the formation of the 5-0 model, which also involves the reduction of quotations pair.
---
---
Looking for the Best Forex Broker? We trade at RoboForex. You can receive a rebates from each trade when registering using our partner link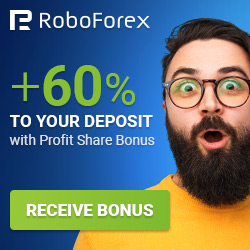 ---