---
Currency pair EUR USD EUR USD at the current trading week, was able to show a correction in the area above the level of 1.08. At the moment, the pair completed a descending shaping forex model 1:1 with a view to working out and falling to below 1.0370 area. We should expect another attempt to correct and test 1.07 area under the formation of topping forex model and only after that to continue to drop below the level of 1.0370.
EUR USD Forecast on December 12, 2016 — December 16, 2016
Cancellation option of a downward movement will be strong growth of quotations EUR USD above 1.09 level that points to continued growth with a potential test 1.12 area. The immediate purpose of the fall is the area of support for the test at the level of 1.0520, a breakdown of which is expected to speed up the fall. Among the important events in the next trading week, 12 – 16 December 2016, which could have a strong impact on the euro is to provide, the FOMC decision on the basic interest rate, which will be held on December 14, 2016, it is expected that rates will be left unchanged, but the Fed chief pointed to a possible rate hike in December, so in the event of a change rate of US dollar may continue to rise, and the breakdown of support for the euro from going beyond the model triangle.
EUR USD Forecast on December 12, 2016 — December 16, 2016 suggests an attempt to continue falling in the framework of the descending forex 1:1 model with the potential to reduce the area below 1.0370, the cancellation will be the breakdown of the upper boundary of the channel closing price outside the resistance area, this option involves an attempt to test the level of 1.12.
---
---
Looking for the Best Forex Broker? We trade at RoboForex. You can receive a rebates from each trade when registering using our partner link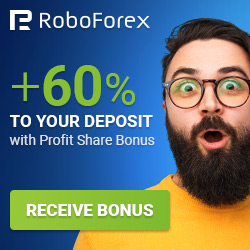 ---