---
Currency pair pound dollar GBP USD continues to move in line with expectations and at the moment there is the potential for the breakdown of 1.2080 area, which points to continuing decline in the area below the level of 1.19.
GBP USD Forecast British Pound on January 10, 2017
In favor of a continuation of the fall, quotes pound against the US dollar in favor of the upward trend line break an indicator of relative strength. But do not rule out an attempt to test the resistance area, and only after that to continue fall.
Cancellation option will be the fall of the strong growth and the breakdown of the area 1.24. Among the important news from the UK, which could affect the course of the currency pair GBP/USD tomorrow, January 10, 2017, stands out, volume of retail sales of BRC.
GBP USD Forecast British Pound on January 10, 2017 suggests an attempt to continue falling in the rebound from the breached resistance areas with the potential to reduce the area below 1.2080, would be the abolition of the sample area 1.24 closing price.
---
---
Looking for the Best Forex Broker? We trade at RoboForex. You can receive a rebates from each trade when registering using our partner link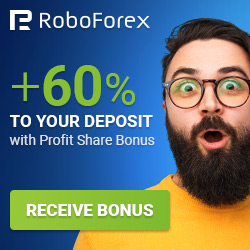 ---