---
A QUOTE BRENT crude oil tight test resistance area is still in the oil market does not abate the euphoria of the decision of OPEC to reduce oil production. This decision is the first decision in the last eight years.
BRENT oil price forecast 6 December 2016
However, the benefit of the fall is the test of the descending trend line on the indicator of relative strength, as well as the formation of reversal pattern Forex failure swing in the relative strength indicator, which indicates the potential development of a downward correction. We try aggressive sales with the tight stop and are ready to increase the volume of sales to the extent of the fall, the cancellation option will strong growth and the breakdown of the level of 57 dollars per barrel, in this case, is expected to continue growing, and the test region of $ 65 per barrel.
BRENT oil price forecast 6 December 2016 Test $ 55 implies an attempt to correct in the rebound from the resistance line on the indicator of the relative strength in order to reduce the area below 53 dollars per barrel.
---
---
Looking for the Best Forex Broker? We trade at RoboForex. You can receive a rebates from each trade when registering using our partner link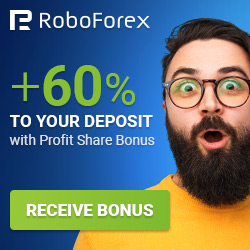 ---