---
Currency pair pound dollar GBP USD showed on the current trading week, tight test resistance area and the upper boundary of the descending channel 1:1 model. At the moment, there are risks to see the development of the downward trend for the pound with the immediate goal of the fall at the level of 1.20, however, the very model involves trying to fall and refresh the area of a local minimum on the pound. In favor of the option of a downward trend, and the rebound from the resistance area stands the test downward trend line on the indicator of relative strength.
GBP USD Forecast on December 12, 2016 — December 16, 2016
Do not exclude another attempt quotations growth in the region of 1.27 and only after that to continue fall. Accelerated decline development is expected to breakdown level 1.2250. Cancellation option the fall of the British pound against the US dollar will be strong growth and the breakdown of the upper boundary of the descending channel that will point to the development of ascending the pair GBP / USD correction with a potential test 1.33 area. Among the important events in the next trading week, 12 – 16 December 2016, which could have a strong impact on the pound, we should mention, decision on the basic interest rate of the Bank of England, which will be held on December 15, 2016, it is expected that rates will be left unchanged at 0.25%.
GBP USD Forecast on December 12, 2016 — December 16, 2016 suggests an attempt to continue falling in the framework of the descending forex 1: 1 model with the immediate goal at the level of 1.20 and a potential target for reduction of the area below the local minimum, the cancellation will be the quotations going beyond upper limit of the downward channel.
---
---
Looking for the Best Forex Broker? We trade at RoboForex. You can receive a rebates from each trade when registering using our partner link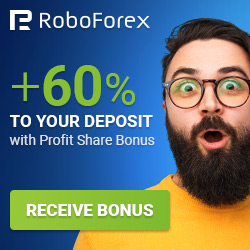 ---