---
On Tuesday, September 6, 2016 is expected to number of important economic news and data.
The first will be published on the decision of the Reserve Bank of Australia's interest rate. At the moment, the rate is at 1.5%, market participants expect that the rate will remain unchanged; however, this statement of the Central Bank of Australia and the following accompanying statement anyway provoke a serious rise in volatility on the pair AUD/USD.
At morning time data on gross domestic product in Europe in April 2016 and for the quarter in annual terms. This time will be a hearing on the inflation report in the UK, which is an important component for future decisions the Bank of England to change interest rates, there should also expect high volatility in the pair with the euro and the British pound.
At dinner will be a stream of data from the United States, including the ISM index of business activity in the services sector in August 2016 there is expected growth rate to the level of 51.20, which will make a positive for the US currency.
In the evening will take place the speech of the Swiss National Bank Thomas Jordan, is also the main focus will be the further development of monetary policy, which could provoke a trade with volatility in CHF pairs in the first place on the currency pair USD/CHF.
---
---
Looking for the Best Forex Broker? We trade at RoboForex. You can receive a rebates from each trade when registering using our partner link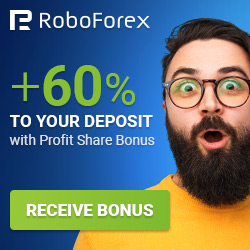 ---