---
On Friday, September 9, 2016 once again expect a lot of news from Europe, Canada, Switzerland, Australia and New Zealand, in this review Forex Fundamental Analysis for September 9, 2016 we consider the main events and assess their likely impact on the Forex market.
From the beginning of the trading day will feature retail sales data using electronic charts in New Zealand, the degree of influence on the average market performance, but due to strong momentum for the pair NZD/USD is likely that these data the market will be taken into account.
On the currency pair can exert pressure to publish data on mortgage loans in July 2016; it is expected to drop in the number of credits, which, of course, will have a negative impact on the Australian dollar. It will also be published a report on investment in housing, all the data will be presented at 4:30 Moscow time.
A little later, will be published data on unemployment in Switzerland in August 2016, this figure has a strong level of influence on the market, and we should expect increased volatility in the pair USD/CHF.
Further, the market expects a series of indicators from Germany, including data on trade balance, inflation, but the extent of the impact of these data on the market average and in general with no surprises should not expect increased volatility in the pairs involving the euro.
Among the important news is worth paying attention to in the UK forecast data on consumer price inflation, the degree of influence on the market is very high, which will have an impact on the pair with a pound, the last figure was 2%.
At the beginning of the US trading session the data on unemployment in Canada, where it is expected that unemployment will remain unchanged at 6.9%, will also be published data on the share of labor in the total population. The degree of influence is rated as average, but the pair USD/CAD, we are already seeing significant movement.
At the end of the trading week will be reported by Baker Hughes active oil rigs in the United States, the figure for the previous period stood at 407, major changes in this report could trigger volatility in the commodity market and spur the interest of traders to oil.
---
---
Looking for the Best Forex Broker? We trade at RoboForex. You can receive a rebates from each trade when registering using our partner link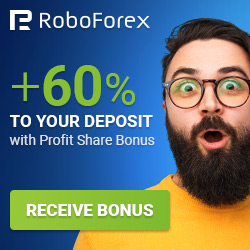 ---