---
On Wednesday, September 7, 2016 and is expected to increase news background, which may put pressure on the currency pairs in today's review Forex Fundamental Analysis for September 7, 2016 we will look at the major events and assess their likely impact on the Forex market.
Early in the morning will be published data on gross domestic product of Australia in April. In annual terms, the growth rate is expected at 0.1% to 3.20%, but the quarterly report likely to show a decline to 0.4%, while the value of the past was at 1.10%, which will put pressure on the pair AUD/USD. If there is some surprise and real data show growth compared with the predicted values, there is the Australian Dollar may well show the breakdown of the resistance area in relation to the US currency.
The highlight of the environment will be the decision of the Bank of Canada's interest rate, as well as the accompanying statement of the Bank of Canada, it is expected that rates will be left unchanged at 0.5%, but the extent of the impact of this news on the market is quite high, especially should expect increased volatility in the pair USD/CAD.
If we consider the less important news is that there will again be hearing a report on inflation in the UK that have an impact on the pair with the participation of the British pound, and especially on the currency pair GBP/USD. Pound is trading near the resistance area and if investors do not see the report hints at a probable rate hike, then we can expect decrease in pair gbp usd forex.
It's late in the evening scheduled publication of the US Federal Reserve Economic Review titled "Beige book". The degree of influence of this indicator to the market average, however, in case of surprises in the review, we should expect increased volatility in the pairs involving the US currency.
---
---
Looking for the Best Forex Broker? We trade at RoboForex. You can receive a rebates from each trade when registering using our partner link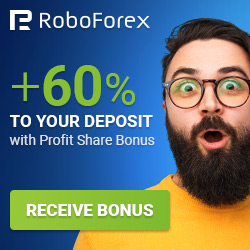 ---