---
On Thursday, September 8, 2016 is expected to increase again the news and one of the most important news is the decision by the ECB rate, in today's Fundamental analysis of Forex on September 8, 2016 we will look at the major events on Thursday and assess their likely impact on the Forex market.
Currency euro dollar pair showed strong growth, and investors and traders apparently markedly nervous before the ECB decision on interest rates, in general, is not expected radical changes, the rate as it was at zero level at this level and will remain. Immediately after the publication of the decision will be a press conference and the comments from the ECB's monetary policy. Expect high volatility is precisely in this time period.
Among other important events on Thursday is to provide a statement the deputy head of the Reserve Bank of Australia, the Australian dollar are also quotes show growth and positive performance seems to be able to test a couple of local maximum region, but in general, the degree of influence of the events in the market is estimated as average.
In the middle of the trading day will be presented data on the index of housing prices in the primary market in Canada for the month of July. The figures for the previous period were at 2.50%, the surprise publication can have a serious impact on the further movement of the pair USD/CAD and trigger a rise in volatility. At the same time, will be presented the data on initial applications for benefits for unemployment in the US, the data for the last period is 263K.
Already in the evening will be published data on changes in inventories in the US oil and oil products in September this year, which could put pressure on the price of oil brand BRENT and WTI.
---
---
Looking for the Best Forex Broker? We trade at RoboForex. You can receive a rebates from each trade when registering using our partner link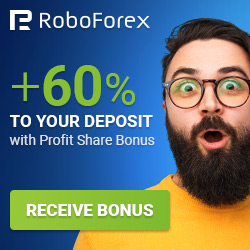 ---