---
Quotes of WTI oil have shown a serious growth at the end of this year. Many banks have already prepared and made its forecast for oil prices in 2017.
Goldman Sachs, in turn suggests that the price of oil could rise above $ 60 per barrel in early 2017, assuming that OPEC will be able to realize the reduction of oil production. Analysts Barclays, talk about the level of $ 50 at the beginning of next year, with a potential growth in the area of $ 60 towards the end of the year.
WTI Forecast oil prices 2017
Basically, all the world's major banks adhere to the mark of $ 60 a barrel, as the oil price forecast for 2017, which is somewhat at odds with the expectations of analysts team Robert Prechter, and they were able to point out the current correction in oil to $ 60 per barrel, which is what we are seeing at the moment. On the monthly chart as oil futures continue to move in the downward trend.
In the near future there will be a tight test of the descending line of resistance on the relative strength indicator, that will put pressure on prices and may well provoke a rebound down and continued drop in WTI prices. But do not rule out an attempt to complete the descending pattern 1:1 with a dense dough upper boundary of the channel at a level close to 65-70 dollars per barrel, from which we can expect continuation of falling of an attempt with the aim to upgrade the area of a local minimum. Cancellation option will yield quotations outside the channel with closing above the level of 80 dollars per barrel, in this case it is necessary to expect continuation of growth of quotations of oil in the area above the level of 100. In the meantime the quotations are traded within the descending channel, it makes sense to talk about the fall in oil prices in the 2017. As you can see from the chart the key resistance level for oil will make the region of 65-75 dollars per barrel, if the quotes will break through this area, then we can expect the price growth only if we see a rebound and the formation of topping models, then the quotation can update lows and will move as part of the descending pattern of 1:1.
WTI Forecast oil prices 2017 suggests an attempt to continue the correction at the beginning of next year near the region of $ 60-75 per barrel, where is expected to fall to a potential target in the local minimum update the cancellation of such a scenario will be a strong growth of quotations and closed above the level 80 dollars per barrel.
---
---
Looking for the Best Forex Broker? We trade at RoboForex. You can receive a rebates from each trade when registering using our partner link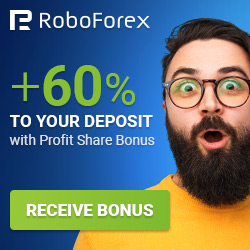 ---